Alas, I have quite an interesting concert resume now:

Christinia Aguilera (free), The Eagles (free), Alkaline Trio ($30), Harry & The Potters (priceless).

Super Awesome Senior Skip Day, as we called it, began pretty awesomely: I skipped school and slept until 11 AM, at which point Abby called and woke me up. Fuckin' a, sleeping in. I found some food somewhere and then Candice picked me up and she, Sindie and I ventured DOWN-TOOOWN!

After getting lost and travelling down various confusing Ottawanian one-way streets, we somehow managed to park in the same parking garage as Sarah, Lisa and Abby, and then we found them in Rideau. I don't really like shopping, but Rideau really puts Bayshore to shame, as far as malls go. Sin and I half-heartedly inspected prom dresses while our friends fawned over Aritzia.

There was nothing really very exciting about shopping, so let's cut to dinner. We ate at some place called Zak's, which is, for future reference, just off the Byward Market (that isn't a market right now, but wutev). It's like some 50s-style diner, even though it was made in the 80s, as we discovered. They had some damn good diner-style food, man. That was a damn fine burger and onion rings. :| I also wanted a delicious 50s milkshake but there wasn't really time. One of their signs said "ASK ABOUT OUR PROM NIGHT SPECIAL" and we joked about how we should go their on prom night. Good times. Mmmm, talking of food reminds me that I am freaking hungry. Wtf. It's like midnght.

Anyoo. After some mediocre adventures finding our way -- we asked at a hotel because we are tourists in our hometown -- and discovering that it was literally right beside the hotel we asked at, we mae our way to the Saw Gallery. It was a pretty neat place, in my humble, limited experience. They had this ... wall... covered in things that looked like little tiles or somethign from far away, but upon closer inspection, they were ACTUALLY tiny thumbnail photos. It was really badass so I took a picture. Across from thta, there was a random .... ..um.. I don't even KNOW... display that consisted of about 300 butterknives suspended in the air. I have no idea, but it was cool. There was also an adjoining room with some kind of thing on the wall and the outline of a body in tape.

Weird. Cool.

THe little mark thing they made on your hand to show you had paid was a lightning bolt. Lirl.

The merch booth was hilarious. Sarah, Candice and I got beautiful shirts to solidify our nerdery. Candice got the one with Hedwig on the basis that "maybe it could look kind of cool under a blazer", and Sarah got one that was pink and said "Harry and the Potters rock the Library!", while I got a green one with a basilisk, a little girl and the bold letters "SAVE GINNY!". I also got HARRY & THE POTTERS AND THE POWER OF LOVE, which I am listening to right now. Truly a beautiful CD if ever there was one. I also texted Lexi "VOLDEMORT CAN'T STOP THE ROCK", because he can't.

Basically, the show was absolutely hilarious, even if they only played for about an hour, if that. We all combined the magic, love and rock in our hearts in order to stick it to the man. :|

Then we went out for coffee and I had a creme egg mcflurry. God yes. We saw Carly, told her where we'd just been, and she kind of shook her head sadly at us. Haha.




Yay Zak's!



Yay Zak's again! Mmm the food was so delicious.

You know what the rest of those are on facebook, go there.




HOTTIES.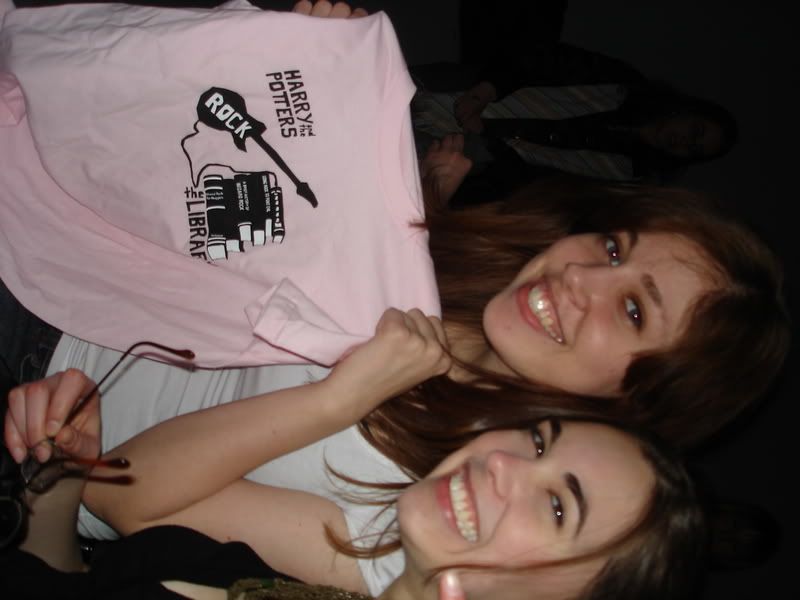 Sarah holding up her beautiful shirt.



Ignoring the fact that the angle makes Sarah's head unusually large, I like this picture.



Yep I am excited.



WHOOOOOOO HARRY ND THE POTTERS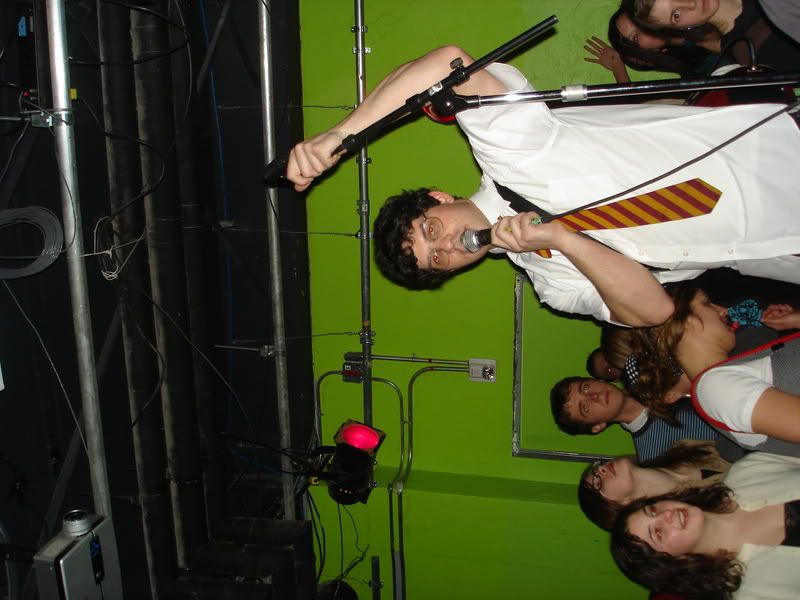 He was trying to get the micstand ontop of the table but it wasn't working, man.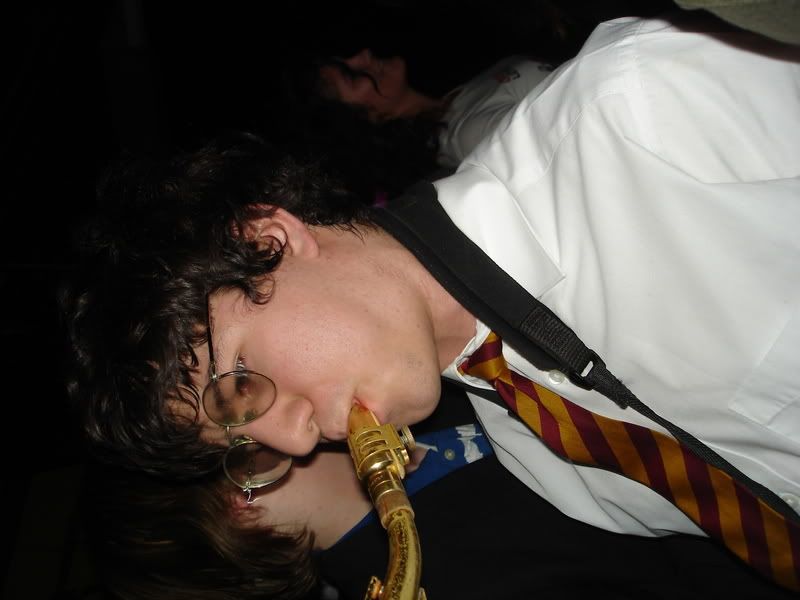 The Room of Requirement granted him a saxophone :|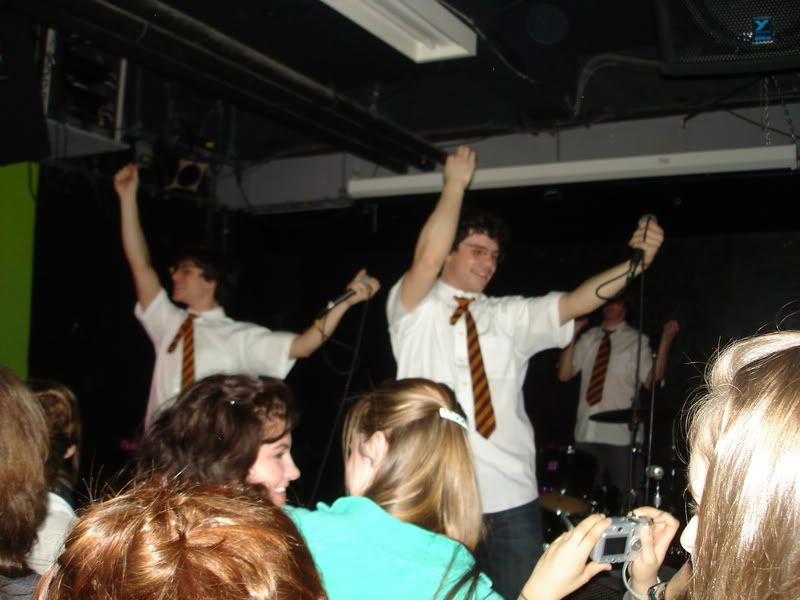 During the final song -- THE WEAPON (we have is LOVE) -- they encouraged us all to play our magical air guitars. Seen in the back is Bill Weasley/some guy on drums.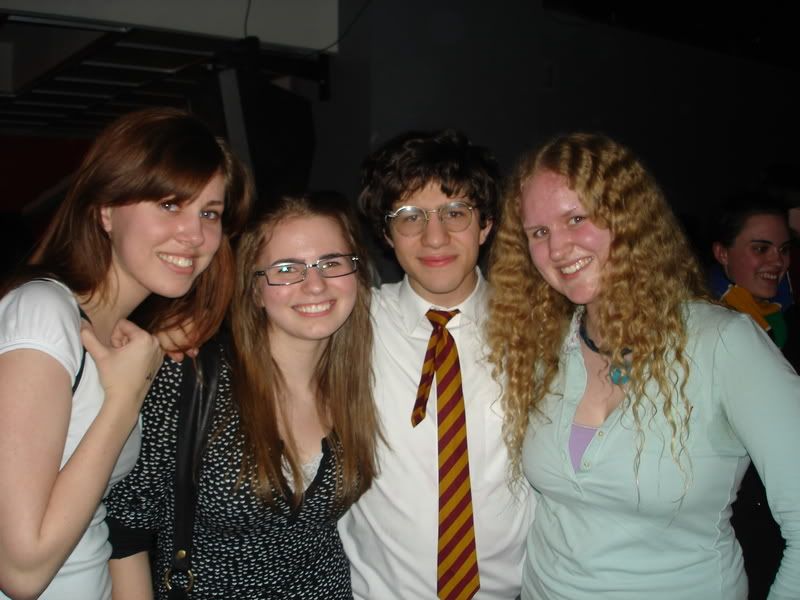 Candice and I were determined to get a picture. SO WE DID. Sweet.



OKAY enough lj-ing for me.


<3
Kali